Enhancing Team and Leadership Communication and Organizational/Team Culture
Offering Coaching and Training to Improve Communication and Conflict Management Skills and Culture and Increase Teamwork and Team Productivity and Leading Monthly or Quarterly Team Circles.
We are proponents of the Conscious Leadership and Organizations movement, which incorporates emotional intelligence and spirituality into developing leaders and improving the organizational culture.

Sign up for our newsletter to learn communication tips and upcoming events and workshops
#1 Communication Problem for Managers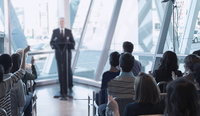 As workplaces become more diverse, the need to communicate properly becomes more important. Communication between managers and employees, across departments, between customers and employees and between employees and vendors are all essential to how a business operates on a day-to-day basis. Even though communication is recognized as a key to a successful work environment, companies often struggle with poor communication in their workplaces. - forbes.com

What's the #1 communication problem for managers? Active Listening
---
Team Building
We offer in-house retreats for teams to build communication, trust and synergy. Although fun, we find that throwing an ax together or going to an escape room together does not really build the kind of trust and communication that is necessary to have good teamwork and synergy. We incorporate activities that build trust and communication between team members.
We use the Circle Method to build team trust, communication, synergy and better help with conflict management. After our retreat, you will start to see improved group cohesion, productivity, decision-making, problem-solving, conflict management, individual accountability and team synergy.

We recommend doing a monthly team Circle to continue to build the foundation of teamwork, trust and culture that's necessary for continued success.
Training
We offer workshops and trainings that are engaging and interactive whether in-person or as a webinar. We also provide train-the-trainer for your in-house development staff on the following topics:
Improving Communication
Listening Skills
Unconscious Bias
Presentation Skills
Conflict Management
Emotional Intelligence
Consciousness
---
Team and Leadership Coaching
We are certified coaches. We take a collaborative approach where the coach and leader and team-member work to set goals that match closely to the individual's and team/organization's objectives. We also work with clients to improve their emotional intelligence and "consciousness" in order to be more successful.
One-on-one coaching challenges leaders and staff to take a closer look at their professional lives and make positive changes in order to become more effective in the workplace and more effective teams. We work closely with clients to define clear, attainable objectives.

Public Speaking
We offer coaching and training on public speaking to help you write, organize and present killer presentations.
We are also available to speak at your event, conference, retreat or other meeting on any of the topics listed on this page.
Contact us to book a speaker

We are experts in adult learning. Our trainings are not lecture-based. We believe in order for people to learn, it's necessary to be engaged in the material and to integrate the new knowledge through group activities and self-reflection activities and discussions. Our passion is teaching and learning and we have over 10 years experience doing it.
---
Circle Method for Team Building
We are certified circle facilitators. We use the Circle Method for team building because it is the most effective way to foster trust and experience belonging and connection in the workplace. If you have not experienced the Circle Method, it really is transformative!